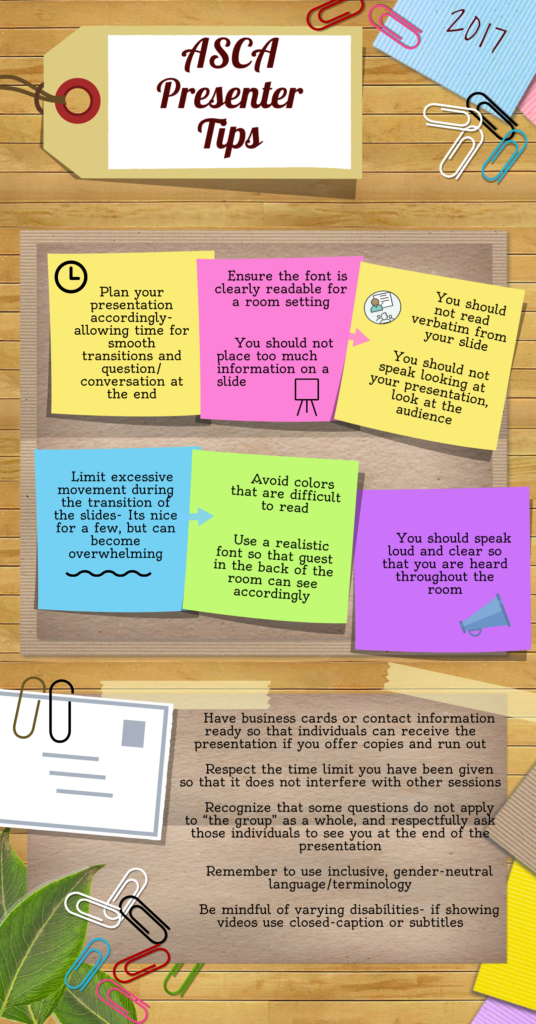 We are excited to have you as a presenter for this year's ASCA Annual Conference!
Below you will find information that should be useful for anyone presenting at the conference.
Prior to arrival:
We ask that you submit a digital copy of your presentation prior to the conference in order to provide materials to attendees. These presentations can be uploaded to the weblink (which will go live in December) or provided upon check-in at the presenter's check-in station on site at the conference. We do understand the nature of intellectual property and submission of materials is suggested, not required.
Please remember, on-site A/V equipment is limited to only an LCD projector and projector screen. Any other equipment requests will be reviewed but are not guaranteed due to a limited budget. Any presenter utilizing Apple products must provide their own Dongle cord and any presenters in need of HDMI to VGA converters for PCs must to provide their own cords to plug into the A/V system at the hotel.
Please note presentations are slated for 60 minute sessions, so please plan accordingly to allow maximum time for attendee transition to their next sessions.
Any printing needs you may have will require you to bring pre-printed copies to the conference or to have them produced on site at your own expense. Please anticipate audiences of 40-50 people in attendance.
---
Upon check-in:
There will be a presenter's check-in station . The station will be located. Make sure to stop at this station immediately after completing the conference check-in process to get any additional information you may need during the conference regarding your role as a presenter.
Please note there may be changes made to the schedule on- site during the conference to accommodate any flux in the schedule and may require the committee to ask for your flexibility in presentation session times.
---
During the conference:
Concurrent session presenters
If you have any technological issues upon arrival to your session location, please contact a member of the Program Committee via phone (210) 816-2722 or e-mail. There will be a session host at each location to distribute session reviews and collect them at the end of the session.
Poster Session presenters
You will be able to set up your display starting (Date TBA). Posters must be set up by Thursday by 5pm. There will be a session during the conference for presenters to answer questions and discuss informally the contents of the display.
ASCA Talks presenters
If you have any technological issues upon arrival to your session location, please contact a member of the Program Committee via phone (417) 773-8055 or e-mail.
PechaKucha 20x20 is a simple presentation format where 20 images are shown, each for 20 seconds. The images advance automatically and the presenter talks along to the images.
Please see any member of the Conference Planning Committee at the Conference Office located in the  for any additional information.
---
Timeline
Below is the expected timeline for the conference committee. We will make every attempt to stick with this timeline. If you haven't gotten a response by the deadline listed, please contact a member of the program committee.
 August 9, 2016 - Call for Concurrent Programs released
September 7, 2016 (5:00pm EST) - Program proposal submission deadline
October 4, 2016 - All program proposal contacts notified
October 10, 2016 - Concurrent Session presenters/co-presenters, & AV requests confirmed
---
Things to remember
If there are any changes to your session (co-presenters, institution, AV needs, etc) please contact 
When planning for travel, please keep in mind that some sessions may need to change, due to unforeseen circumstances. We will do our best to keep you at your scheduled time, however, we need presenters on the first and last days, so please be mindful of that when scheduling travel.
If your travel changes due to weather, or other circumstances, please contact  as soon as you are able.
There will be a presenters check-in at registration. Make sure you get checked-in!